Thank you for visiting YogaSanctuary.com!
Feel free to call for information or to book a Thai Yoga Bodywork session or a private Yoga session:603-231-9443
Class Descriptions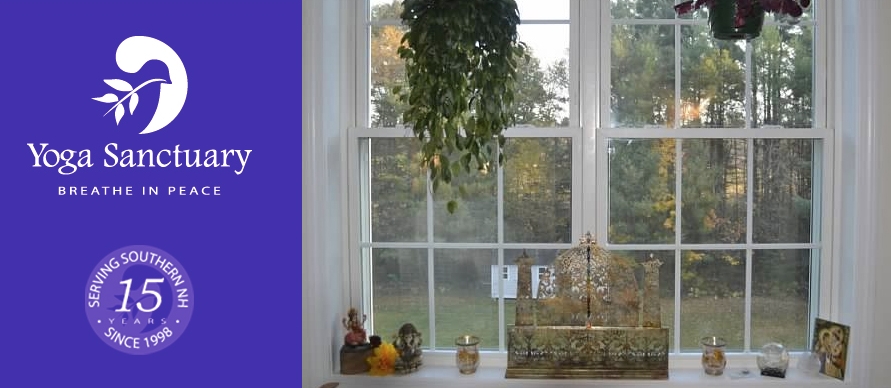 We invite you to join us in the adventure of tuning into your body's inherent wisdom and finding your own personal place as each teacher provides presence, assistance and guidance along The Way.
Thai Yoga Bodywork and More ...
In addition to the classes listed below, Private Yoga Instruction, Thai Yoga Bodywork, and Yoga Therapy are all available by appointment.
LEARN TO MEDITATE with PRISCILLA
4 Mondays: October 7, 14, 21 and 28
7:00 to 8:15 p.m.
$80
Meditation has many benefits such as relief from stress and anxiety, increased focus, better sleep patterns, greater self awareness and increased mindfulness. Regular meditation can lower blood pressure and create a healthier mind and body. These results have all been proven by western measurements and were proven long ago by eastern practitioners as well.

I welcome those who are new to meditation as well as those who want to be re-inspired in their practice to join me.
Chairs, cushions, blankets and benches will be provided so you may sit however you choose. You are also most welcome to bring any props you like.

Mike and I learned the principle of meditation in a class you offered in 2003. It put us on our way. We still meditate. Now we basically do the rpm meditation - rise, pee, meditate. We utilize a variety of styles - mantra, mindfulness, guided imagery, whatever suits us at the time. Thank you, dear one, for providing a safe and sacred space where we could learn and embrace meditation. - Valerie Bennett
GENTLE YOGA
In the practice of Gentle Yoga we learn to let go of any ideas we might be holding on to about perfection as we learn to be with ourselves, just as we are right now. We learn to be with the sensations in our bodies; to be with the way thoughts move through our minds; to be with our feelings...our hurts and sorrows as well as our joys. We learn to be with our limitations as well as our magnificence. At the center of Kripalu yoga is this practice of learning to be present to experience and we begin by learning to listen to the wisdom of the body. This class is perfect for anyone experiencing chronic pain and/or disability. It also works very well for pregnant students.
ALL LEVELS YOGA
We invite you to join us in the adventure of tuning into your body's inherent wisdom and finding your own personal pace as each teacher provides presence, assistance and guidance along The Way.
RESTORATIVE YOGA
Using props (pillows, blankets, bolsters, etc.) to support the body, muscles and organs are induced to relax deeply, thus allowing the immune system to receive a boost. This is a the Yoga of being rather than doing. This practice is the perfect antidote to weakness, fatigue or stress from everyday life. Much personal assistance will be offered in this class to allow you to find as much relaxation of mind and body as possible.
YOGA FOR TEENS
A fun, flowing class for teens which will focus on basic yoga postures and posture flows to help improve flexibility, strength and focus and encourage a sense of peace and balance in this busy, often stressful world. Students will be guided to follow the breath and tune into their individual bodies as they practice mindfulness and meditation in the movements while at the same time enjoying the energy of community in the group.
INTEGRATIVE RESTORATION (iREST)
iRest or Integrative Restoration is a form of Yoga Nidra (The Sleep of the Yogi) where the participant has nothing to do but relax and receive a guided meditation. iRest is a profoundly transformative practice that leads to lasting psychological change, as well as physical and emotional healing. It teaches how to live a contented life, free of conflict, anxiety and fear and suffering by revealing our inherent ground of health and wholeness of mind and body. iRest teaches us how to embody skills that we can use throughout our lifetime, that provide us with a sense of confidence when encountering difficult situations, and teaches us how to embody joy and well-being throughout our daily life.
iRest participants report that they...
* Sleep much better
* Experience decreases in insomnia
* Just feel happier
* Feel their depression, anxiety and fear are all reduced
* Feel greater comfort and ease in their body and mind
* Experience decreased perceptions of chronic and acute pain
* Feel more conncected in their interpersonal relationships
* Feel more comfortable when encountering circumstances they cannot control
* Feel an increased calm and well-being
* Experience an increased sense of control in their lives
Additionally, iRest is being used with great success and research (at Walter Reed Army Hospital, for example) supports its efficacy with PTSD (Post Traumatic Stress Disorder).
Pre-registration Required to Guarantee Your Space in Class